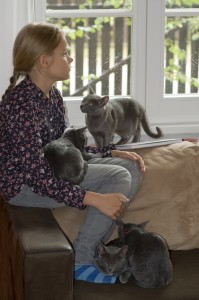 The new kittens from our cattery will be able to move into their new homes at the age of minimum fourteen weeks – after having completed their dewarming and vaccinations, checked by a veterinarian, accompanied by a FPL pedigree (a pedigree of Felis Polonia – the Polish branch of FIFe), with an identification microchip and a passport. We will ask the new owner to sign an agreement protecting the welfare of the cat with us (based on the original Korat pledge) – determining the rights and obligations of the new owner as well as the breeder. We hope to keep in touch with the new owner in the future and support or assist them in case of doubts or questions.
Our cattery is small – in our house we have only one or two litters per year. Thus, we all have plenty of time for our kittens and we can concentrate on each of them individually, which on the one hand gives us immense pleasure, and on the other provides them with constant attention and stimulation facilitating their development into well-adjusted members of a family. Our cats and kittens share the whole living space with us and in sunny weather they also use a secured enclosure in the garden.
We will be happy to answer any questions concerning kittens from our cattery. If you are interested in "being owned by a Korat", feel invited to visit us at our home and meet our cats and us face to face.