The first representative of the breed outside Thailand appeared in Great Britain in a cat show in 1896, but the current lines come from as late as 1959, when American Jean Johnson started the first cattery in the USA, named Cedar Glen. Its beginnings were accompanied by quite unusual circumstances. Shortly after World War II, Jean Johnson left with her husband for Siam (today's Thailand), where she wished to have a Siamese cat. She soon found out that what is considered a truly Siamese cat there is something very different than what she had imagined. During the next six years, she tried to get a Korat – but all in vain. She only saw a few such cats, invariably in the hands of high-ranking officials, foreign diplomats or Thais of noble birth. She left Thailand, having almost lost her hope to make her wish come true, but not before she had asked her Siamese friend to keep her eyes open and try to get her a pair of cats of the rare breed. Much to her surprise, six years later her friend informed her that she had found a couple of Korats for her. And so, in 1959 there came two first Korats to the USA – the male Nara and the female Darra.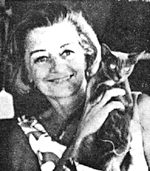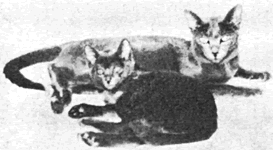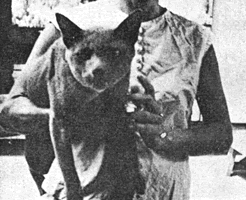 Daphne Negus and some of the nine korats she brought from Thailand to the USA: Ma-dee of Si-K'iu; Nongchai of Si Sawat with Sook Chai of Ko-Si and Nin Noi – the sire of Sunetra and Sanouk (photos: Daphne Negus).
In the years to follow a growing circle of Korat enthusiasts in the USA purchased the next cats from Thailand. Daphne Negus – the owner of the Si-Sawat cattery and an important pioneer in the matters of breeding and popularizing Korats – took off for an unusual trip to Thailand to bring home nine more Korats – nine, as the number is considered a fortuitous sign in Thailand. In 1965, the American Korat Cat Fanciers Association came into being, the main objective being to protect and develop the breed, as well as preserve its heritage. In 1966 Korats were accepted by the American association, CFA.
Korats arrived in Europe in 1972 – first to Great Britain; two years later to Norway, where Elfi Kleive brought her first cat, Mahajaya Coco, from Thailand. Only in 1981, thanks to the long and arduous efforts of Elfi Klieve, Korats we accepted by FIFe.
Based on texts written by Jean Johnson, Daphne Negus, Donatella Mastrangelo and other korat breeders.