IC DULKA MORAKOT*PL (female) DOB 18 March 2014                                                                                                        pedigree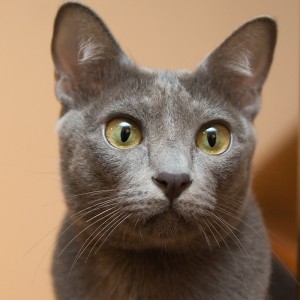 A lovely daughter of Mook Mai who came to us directly from Thailand.  Dulka is a Korat of a cheerful, friendly, gentle disposition – she is the first to welcome visitors at the door. Tirelessly willing to play, she loves to accompany whoever is bustling about the house, but she favors me in particular – it takes just my look or an endearment addressed at her to make her purr with all her might. Dulka is of a muscular build and is big for a Korat female – she weighs over 4 kg. A strong muzzle with a well-defined chin, a charming broad lion-like nose and a gorgeous soft, silky, silvery coat is what she took after her Thai mother. Her big trustful wide-open eyes seem to be able to look you deep into your soul.
CH BAGATELA (BIBI) MORAKOT*PL (female) DOB 30 September 2013                                                                                       pedigree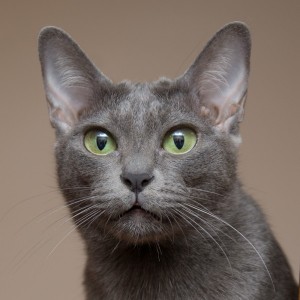 Bibi is a daughter of our foundation queen Dessi. In her over twenty generation pedigree, you can trace the blood of the first two Korats who reached the USA – the blood of Nara and Darra, as well as that of Mahajaya Coco, the pioneer Korat of Scandinavia. What Bibi took after her beautiful mother is her expressive luminous green eyes as well as her excellent motherly instinct and care which she spreads not only over her kittens but also over her grown-up cat companions. She absolutely loves to snuggle under her bipeds' sweatshirts and has a very soft spot for our Thai boy, Nono. Bibi is quite appreciated by cat show judges but she is no enthusiast of being in the spotlight and much prefers the privacy of her home.
CH MOONSTONE (MUNIEK) VADHANA OF CHERRI CREEK (male) DOB 30 September 2013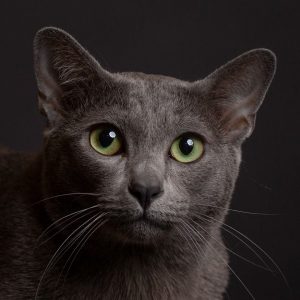 Moonstone – or Muniek – is a traveler of a cat. Born in Thailand, he spent the first year of his life in the USA – only as much as it took him to sire three litters in a Korat cattery of Maleza. Then he took off to go to Poland, where three eagerly awaiting him females – Dessi, bagatela nad Dulka – could hardly wait to meet him. Each of the litters he gave us bought some fresh blood to other Korat catteries: Dessi's son Luk Sus went to live in a Polish cattery Catlark*PL;  Bagatela's boy Namir went to enrich the gene pool of Finland, and Dulka's daughter Mrumla is staying in the country. We do hope that Moonstone's babies will inherit his exceptionally beautiful silver-tipped coat, his incredible muscles and monkey-like agility. Muniek leads his life away from the females, under the loving care of Sylwia i Piotrek, our Poznań Korateer friends.
MERRYLYNN'S JANKES (JANEK) (male) DOB 14 07 2018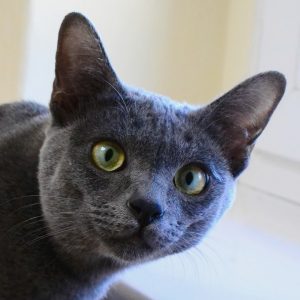 Jankes – as his Polish name implies – came to us from America. He comes from a respectful old Korat cattery and came to us as part of a breeder's exchange program: a year before our Kalina Kalaya Morakot*PL went to the USA to enrich old American lines, bragging of Korat show champions. Jankes has a wonderful temperament, which – to our pride and joy – he passes on to his children! He lives under care of Sylwia and Piotrek, in the company of Moonstone.
.
.
CH DESSI S*MASTERTASSEN (spay) DOB 12 April 2011
pedigree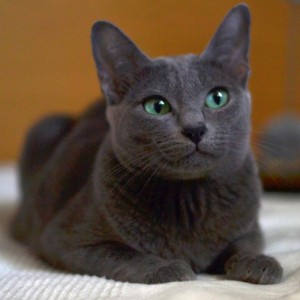 Dessi is the female we brought to Poland from Sweden as the first Korat cat meant for breeding in our country.  She is a true Korat beauty in full blossom who boasts huge, mesmerizing green eyes, a beautifully silver-tipped coat and a very shapely, well-proportioned body. She moves in an elegant and graceful manner, and with much confidence. Dessi is a very competent and devoted mother – she gave us the very first litter of Korat kittens in our home. She loves to jump and to climb high and likes being stroked, preferably by grown-ups. She is very territorial to other Korat females and does not really enjoy their company, which is why she now lives and rules with absolute power in the house of my friend Kaja and her family, in the company of her neutered son, Gejzer.
CH NONG NOON (NONO) CHUCHAI (neuter) DOB 27 February 2012                                                                              pedigree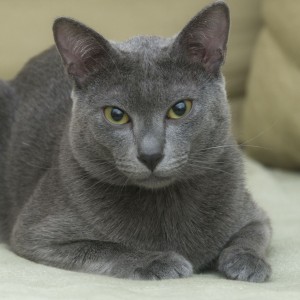 Nong Noon comes from a very old and respectful Korat cattery of Khun Chuchai in Thailand. One of his litter brothers was presented to a Thai princess, so not only is Nono a globetrotter but also next of kin to a palace dweller! Nono has a fair share in Korat breeding in the West, as his offspring, who added to British, American, Australian, French and Danish Korat catteries, have brought new blood to western Korat breeding, which is a way to provide for good health of this unusually rare breed. Nono is a male who encaptures you with his aristocractic Thai beauty and, most of all, with his effusive, affectionate character. He lives under care of my friend, Marta, in the company of a house cat, Amelia.
MOOK MAI (MUKA) CHUCHAI (spay) DOB 14 February 2012
pedigree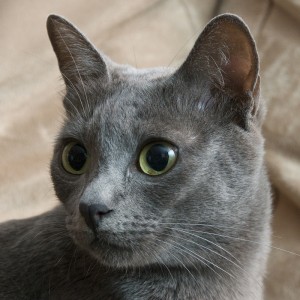 Mook Mai comes from the same Thai Korat cattery as Nong Noon, but from a different line. Unfortunately, she was not made to enjoy mothering too long – she gave birth to only three kittens in two litters, and each of her pregnancies finished in a Cesarean section, which is why we gave up exposing her to any more risk connected to procreation and, despite her young age, we retired her from breeding. Muka is a very active, agile and alert cat – she would make a great mouse or rat-catcher, if only she had a chance… Of all the Korats we have had a pleasure of sharing our lives with, she is probably the most talkative – when you address her, she eagerly engages in a discussion.
LUSSE S*MASTERTASSEN (neuter) DOB 12 April 2011
pedigree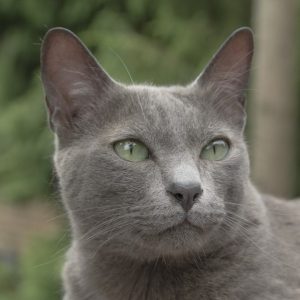 Lusse is Dessi's brother who came along with her from Sweden to Poland. He is the darling of our oldest daughter Zuzia and there is no one else who is as favored by him as she is.  Lusse is a handsome big boy – a bit too big in fact, as he enjoys a rather unbridled appetite. When Zuzia left home to study in another town, Lusse followed his love. Lusse is not only good-looking but also very neat – quite pedantic in fact, which can be well seen in the care and attention with which he places his paws and tail when seating himself in a comfortable position, or in the accuracy with which he grooms not just his own coat but any other cat's falling into his paws.