Our five-member family dreamed of having a cat that would be refined and gentle, bold and brave, curious and playful, friendly and social – all in one. Having studied cats' characters in depth, our daughter Marta found a breed that – much to our surprise – fulfilled all of our expectations. It was the Korat – a cat that seemed too good to be true. Well, we soon discovered there was a fundamental obstacle: in 2010 the cat was unavailable in Poland… This, however, would never stop us.
To meet the Korat face to face we had to travel across the sea. In reply to our email, Karin Sjöholm and Petter Terenius from Sweden invited us to visit their cattery named Mästertassen. We promptly took this opportunity to meet experienced breeders and, most of all, their Korats – a gang of five. This way we hoped to see how the Korats of our imagination compared to reality, and whether or not we were right that these special cats and our family were simply made for each other.
The Korats we had read about seemed to be the perfect cats to us – because of their outgoing character and friendly temperament, and because of their natural beauty, not to mention the fascinating story of this ancient breed. The Korats that welcomed us at the door of Karin and Petter's apartment like a reception committee fulfilled our highest expectations. The five silvery cats of peridot green eyes presented themselves as smart and bold creatures, keenly interested in us, eager to interact and tireless in play; balanced and gentle at the same time. Tender to one another and definitely cherishing one another's company, they brought to mind a miniature lion pride. Matouf, Natell, Minoe, Isme and Louwin convinced us that the Korat is the breed we had been looking for. In the meantime, Karin and Petter were watching our family making sure they could trust us with kittens from their cattery. They wanted us to enjoy the company of these exceptional creatures and to popularize their beloved breed of Korats in Poland.
Less than a year after our visit to the Swedish cattery we traveled the sea again – this time, to bring home two four-month-old Korats – Lusse, our male Korat, and Dessi, our female. On August 4th 2011 we became the first – to the best of our knowledge – Korat owners hoping to become Korat breeders in Poland.
We named our cattery Morakot, a Thai word meaning emerald, in honor of the Korats' most notable feature – their big green eyes – and in honor of their homeland, the cat-breeding tradition of which we would like to continue in Poland.
our Korats from Thailand
On 18 November 2012 two extraordinary Korats were added to our cattery: a female – Mook Mai (in Thai: Silky Pearl) born on 14 February 2012 and a male – Nong Noon (in Thai: Young Cotton) born on 28 February 2012, who came to Poland from Thailand. They are from two different lines, from an old cattery of Khun Chuchai – the chairman of Korat Conservation Club – from Phimai. The venture of bringing the two precious cats to Europe was an initiative and a tremendous effort of a devoted Australian breeder and an enthusiast of the Korat of Polish background, Eva Krynda. Bringing the Korats to Poland was possible thanks to the support of a few experienced korat breeders from Norway, Denmark and Australia. The offspring of Mook Mai and Nong Noon have now been included in their breeding programs, providing precious new genes to the scarce gene pool of the extremely rare breed in the western world, the breeders of which value keeping it in excellent health and shape above all.
Left: Nong Noon, Mook Mai and her litter brother at the age of two months in Thailand. Middle: Eight-month-old Mook Mai and Nong Noon before they left for Europe, held by Panarat Kamchat and Nolan Betterly, a Thai American couple, under whose loving care the cats were brought up and prepared for their trip to Europe. It took many vaccinations, examinations and health certificates as well as a laborious preparation of complete documentation of the cats' origins to make it possible for them to have pedigrees which are recognized in the western world, and on the basis of which they were registered in CFA, TICA and FIFe. Right: Panarat Kamchat and Khun Chuchai Wisetjindawat at his place – on the background of his cat-show trophies. Khun Chuchai's family has been breeding Korats for five generations, since his great-great-grandfather's times. Khun Chuchai gave Mook Mai and Nong Noon to Eva Krynda as a gift in recognition of her passion to preserve the breed, so that she could bring them to Europe. For more information about Khun Chuchai, Thai Korats and Eva's trip for Nong Noon and Mook Mai visit M. Clutterbusk's website. 

Our new cats are not only precious to Korat fanciers but, most of all, they are the sweetest cats we could possibly imagine. They possess all the legendary Thai charm – Mook Mai purrs beautifully and Nong Noon shows effusively his friendly attitude towards the whole world, and they both can definitely look you in the soul.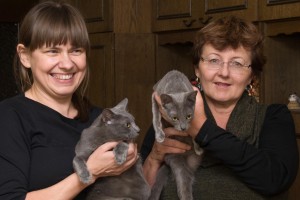 Mook Mai and Nong Noon first time in my arms – love at first sight! It was really hard for Eva to say good-bye to her precious babies, especially her sweet boy…
In September  2018 our cattery was enriched by another Thai Korat stud – Vadhana Moonstone, and soon after that, in 2019, yet another new stud came to us from the USA – Merrylynn's Jankes. Jankes comes from a young branch of an old American Korat cattery of Judy and Dennis Ganoe, proud of their unforgettable Korat champions. Judy and Denis brought us Jankes as part of an international breeding exchange in return for our girl Kalina Kalaya Morakot*PL, who had enriched the breeding lines in the USA a year before.  Moonstone vel Muniek and Jankes vel Janek now live each in a separate household as two spoiled princes: Moonstone under the loving care of our friends, Sylwia and Piotrek and Jankes with a cat-loving family of Justyna and Artur and their teenage kids, Martyna and Szymon along with a korat female Mrumla and two neuters, Ingwar and Aldo.
The site enables you to study the genealogy of pedigree cats of various breeds going back many generations – in case of Lusse and Dessi, up to twenty. Our cats, like all Korats, have documented ancestors in Thailand. It is interesting to note that among the ancestors of Lusse and Dessi you can find Nara and Darra – the two first Korats ever to be bred outside of Thailand.
Using the test mating application on pawpeds you may check the inbreeding of kittens of a hypothetical mating of two Korats from the data base of the website.